Does this sound familiar?
Endless online search
You search for guidance online but the information the "gurus" are sharing is often overwhelming, confusing and conflicting.
Desiring Guidance
You just wish someone would tell you exactly how to build your Coaching Business and how to get clients without being "salesy".
You are a doer, a go-getter, you are not afraid to do the work, but even though you are putting effort in your business, nothing seems to work.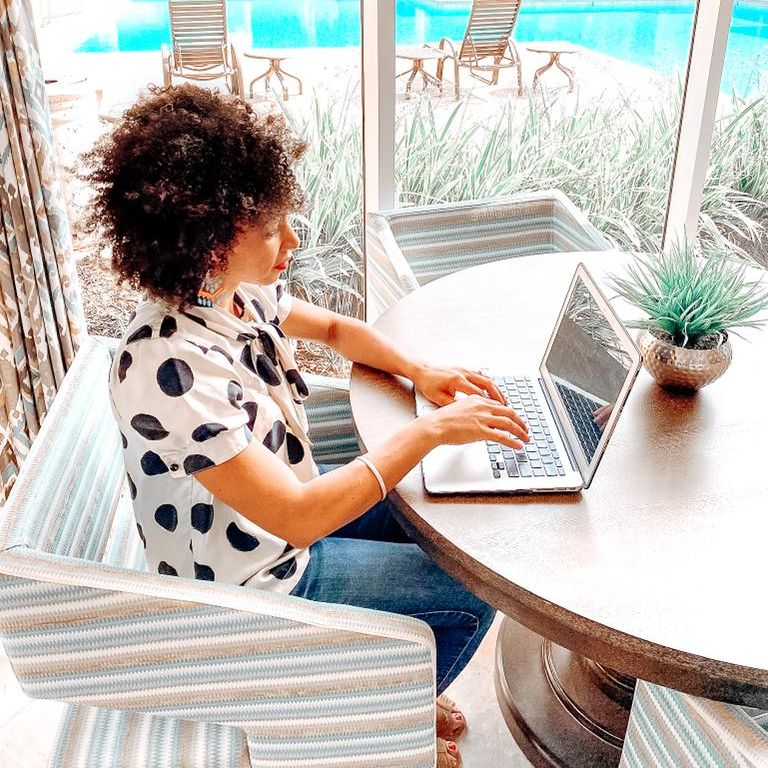 Here's the thing…
It is not a matter of finding the one magical strategy

It is not about spending thousands of dollars on ads, and risking your money on unproven messaging

It is not about having a fancy website

It is not about where you got certified or even if you are certified
None of these things matter, because...
 What you need to build a solid Coaching Business is:
 Belief in yourself as a coach and as a business owner.
Belief in the program you are selling.
Belief in your client's ability to do the work and to get the results they came for.
Belief in your God given mission.
Once this work is ingrained in you, the dynamics of your business change drastically: you become unshakable and your business grows.
I understand it is hard to do this alone, and that's where I come in!
Olá, I'm Zil
and this is Unshakable Belief
A Group Coaching and Mentoring Program like no other, that offers:
Simple and concise steps on how to build unshakable belief which will catapult your business forward.

A Coach and Mentor: my eyes on your business, all the coaching and mentorship exactly where you need

Organic strategies: Client conversion strategies with little to no up-front investments

Money mindset tools


Embodiment work so you can fully step into your new identity as a coach
Here is everything you get when you join us for 6 months:
Exclusive Recorded Modules and Worksheets
6 months of full on support from Zil and her team
Weekly Group Coaching Calls plus a monthly 1:1 VIP mentorship call with Zil
A private Facebook community for in demand coaching, support and accountability
Voxer access in between calls
Tech Support
Our team will work with you and assist you with Tech support for your website, landing pages, etc
5 Private 1:1 sessions with Zil to deep dive into your mindset and/or strategy
These sessions are a blend of coaching and intuitive mentorship so you can build the highest level of self trust as you make decisions for your business
Are you ready?
Ready to know exactly what needs to be done so you can create a solid foundation and grow your coaching business? Ready to attract clients in an organic way? Ready to embody the powerful coach that you are and sky rocket your confidence? 
 
Join the Waitlist
Our clients get results
Our clients don't stay in confusion.

Our clients have a deep understanding of who they work with and don't dwell in niche drama.

Our clients fully step into their new identity and embodiment of the coach they are meant to be.

Our clients understand that they don't need everything to be perfect before they make money.

Our clients position themselves as an expert in offering their solution to their ideal clients.

Our clients live and embrace an abundant money mindset.

Our clients learn to sell any type of coaching.
I have experienced so much joy and growth in working with Zil! Her energy and presence are truly one of a kind. Zil has supported me with major breakthroughs in our time together and it has truly been invaluable. Trust the process is key in working with Zil, if you are open to coaching and really want to grow Zil is most definitely the coach for you. Despite what you may have been told being a business owner is not the most challenging thing, the mindset and belief work needed to be successful and sustainable are really where the magic happens. Zil is as real, honest, understanding and powerful as she comes across if you follow her on social media. I instantly knew she was someone that I needed to work with and I have not been disappointed. I truly look forward to my continued growth and success and I am incredibly proud to call her MY coach!
Coaching with Zil has been a great experience for me. During each session, I come face-to-face with the thoughts that have been holding me back and I enter in to a space where I can embrace new thoughts and decisions for my life and business. I appreciate the care she has for me and the goals I have. What's more, I appreciate Zil's zest for coaching. Through my experiences with her, I know she not only believes in the art and power of coaching, but she also has been nurtured by it and loves it. She is skilled at what she does and with that skill, she's kept me at the forefront in our sessions, equipping me with tools for the journey I am on. I'm getting closer to my goals and chipping away at some of the mountains I've allowed in my life. Soon enough, I know I'll see the sun!
When I started working with Zil, I'd been working on my business for 3 years and was struggling with getting my first 1:1 paid client. I decided to enroll in Zil's group coaching program, Solid Start, because I loved Zil's energy and had some interaction with her in previous programs where I valued her opinion and perspectives. The biggest benefit I received in this course is definitely confidence and increased belief in myself, my mission, and my coaching program. Zil is an amazing coach! In three months she helped me narrow my niche, work through limiting beliefs I had about social media, and gain confidence in my unique coaching style and abilities. And I got my first three paying clients!!! Having access to Zil through Voxer was priceless! If you're on the fence about investing with Zil, know that she brings so much experience, wisdom, and care to her coaching. Being "in the room" with Zil is a treat and worth every bit of the investment.
Working with Zil is amazing. For a person like me, that is easily distracted by the next shiny thing, she keeps me focused with grace. Accountability is very important to me and I liked how she managed my deadlines. It appears to me that she railorzwhat each person needs to be successful and I really appreciate that extra drive on my direction and focus. I will certainly be working with Zil again and I hope you will join us.

 

 
Thanks to Zil's exceptional coaching, I have experienced remarkable growth in my personal and professional life. Her unwavering support, positivity, and evidence-based guidance have allowed me to shift my mindset, achieve breakthroughs, and unlock my true potential. I am immensely grateful for the profound impact she has had on my journey, and I wholeheartedly recommend her as an outstanding coach to anyone seeking transformative growth and success.

 
Working with Zil was the best decision I've made in my whole life! When I first started working with Zil I was going through a real tough time in my life. My personal life was a mess and my business was not profitable. We worked through many of the beliefs that were holding me back and I had breakthroughs in each and every session. Today my business has taken off and things are way better aligned in my personal life. I would never be here on my own.She is also very personable and caring. What an amazing experience it is to have Zil as my coach.

 
How long are the group calls?
What if I can't make it to a call?
How does the done for you website works?